Chipotle Bean Burgers and Sweet Potato Salad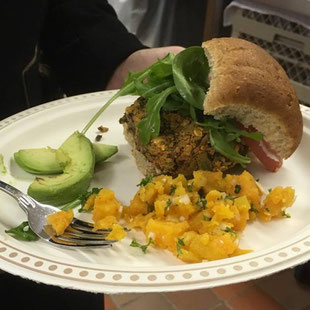 Ingredients:
1tsp virgin olive oil
3 green onions
1 package of crimini mushrooms, finely chopped
1 can of mixed beans (drained)
1/2 cup rolled oats
1 TBSP cumin
2 TBSP pumpkin seeds
2 TBSP of tomato paste
2 TBSP of fresh cilantro (or parsley), chopped
4 fresh mini multigrain Kaiser rolls
1 tomato slice
1 avocado slice
1 handful baby arugala
Chipotle-Llime Aioli Ingredients:
Garlic cloves, pressed
1 tsp olive oil
1/2 cup Veganese Mayo
1/2 fresh lime juice
Chipotle pepper
Balsamic Sweet Potato Salad Ingredients:
1 1/2 lbs sweet potatoes, about 2 large
3 TBSP balsamic vinegar
1/2 cup chopped red onion
1/4 cup coarsely chopped pecans, toasted (optional)
3 TBSP chopped parsley
2 TBSP olive oil
1/2 tsp salt
1/2 tsp cayenne pepper
1/2 cup crumbled feta (optional)
Directions (Chipotle Bean Burgers):
Wash and chop mushrooms.
Heat oil in a nonstick pan over medium heat.
Add mushrooms. Saute until moisture is released.
Transfer mixture to a large bowl and add beans to the mushroom mixture. Mash with a potato masher. 
add rolled oats, tomato paste, pumpkin seeds, 3 green onions, cumin, and chopped cilantro.
Mix, shape and cook on a grill or in a pan.
Mix together all ingredients for Chipotle-Lime Aioli in a bowl.
Garnish with tomato, avocado, arugala and aioli and serve on a fresh kaiser roll.
Directions (Sweet Potato Salad):
Peel sweet potatoes and cut into 1 inch chunks. Place in a pot and add enough cold water to cover. Bring water to a boil, then cover and simmer gently until potatoes are just tender, 5 minutes. Do not overcook.
Drain well, place in a bowl and toss with 1 TBSP balsamic vinegar. Once cool, stir in red onion, pecans, and parsley.
Whisk remaining vinegar with oil, salt and cayenne. Toss with potatoes, then sprinkle with cheese and gently toss again.