Quinoa and Vegetable Stuffed Peppers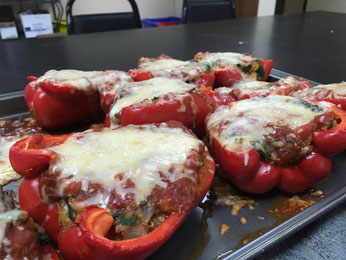 Ingredients
225 g quinoa
6 large red, yellow or orange bell peppers, halved, seeds removed
2 bag spinach
1 clove garlic
1 teaspoon salt
½ teaspoon pepper
2 (650 ml) cans pasta sauce
2 cups mozzarella cheese
2 tablespoons oil
Additional vegetables:
½ onion
1 carrot
1 zucchini
Directions
Preheat oven to 375 degrees.
Start by cooking the quinoa in boiling water (15 minutes) and set aside.
Slice your bell peppers in half vertically and scoop out the insides. Place the pieces into a baking pan or dish.
Rinse your spinach and cook it on medium heat in a pan until soft. Chop and put aside in a bowl.
Sauté garlic in 1 tablespoon oil.
Sauté additional veggies until soft in 1 tablespoon oil. Add to the spinach bowl.
Next, add salt, pepper, and 1 cup pasta sauce to the veggies bowl.
Add the quinoa and mix well.
Spoon the mixture into each of the pepper halves, make them nice and full.
Pour the rest of the pasta sauce over all the peppers and sprinkle cheese all over the top.
Bake for 25 minutes.